How did the Smithville Historical Society get started?
In 1976, many communities planned celebrations to recognize the nation's bicentennial.  Smithville was one of those communities.  In our town, a volunteer committee arranged a week-long series of events that included a parade, displays, dances, ice cream socials, and picnics.  As part of the celebration, then-town historian Martha Rogers, helped by other history-minded citizens, organized a historical exhibit.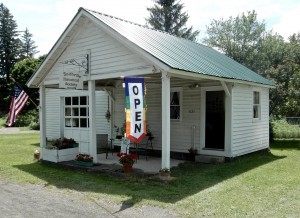 As Mrs. Rogers tells the story, "We were ready to open the doors of our historical display.  We had agreed we'd be open Saturday and Sunday from 2:00 – 4:00 pm.  The crowds came, and they kept coming.  To accommodate everyone, we kept the display open until 11:00 those nights.  Then the bicentennial committee requested that we be open afternoons and evenings the rest of the week.  Local residents started bringing more photos and artifacts to display, and people kept returning to study the pictures more closely.  We again adjusted our schedule, with the exhibit staying open twelve hours a day for the rest of the week—from 11:00 am to 11:00 pm."
Once the bicentennial events ended, the outpouring of interest from the Smithville community led the bicentennial committee to assume a new name:  the Smithville Historical Society, with Martha Rogers serving as its first president.  The group then began the process of organizing and becoming a legal entity.
Now, nearly forty years later, the celebration still sponsored by the town continues as Smithville Day, and the historical society is at home in the former Shell gas station once owned by Bill and Walter Stone.  Through the generosity of the late Mildred Auwarter and her family, the building was deeded to the society in 2009.  While it retains the character of its original purpose—a gas station—it has been refurbished to serve the needs of the historical society.